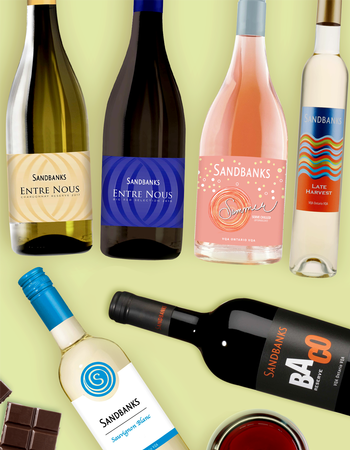 Pairing Essentials 6 Pack $180
For Curbside Pick Up Only
The perfect combination of our wines, paired with local foods that we have selected to compliment the wines!
Available for curb side pick up only. Call us at 613-399-1839 to place your order.
A recorded virtual tasting of the wines and food will be provided to teach you about why they go so well together!
What is included in the package:
2019 SAUVIGNON BLANC + BLACK RIVER GOAT CHEESE
2019 ENTRE NOUS CHARDONNAY + YOW TRUFFLE PARM POPCORN
2019 SUMMER ROSE + CHICO'S CARIBBEAN SPICY PLANTAIN CHIPS
2018 BIG RED + SEED TO SAUASAGE GENOA SALAMI
2019 BACO NOIR RESERVE + CENTRE AND MAIN BLACK CURRANT DARK CHOCOLATE
2018 LATE HARVEST + MAPLE PEPPER LOG